Olympus VN-7200 2GB Digital Voice Recorder
Design for Olympus Digital Voice Recorder which Combining Simplicity with Great Design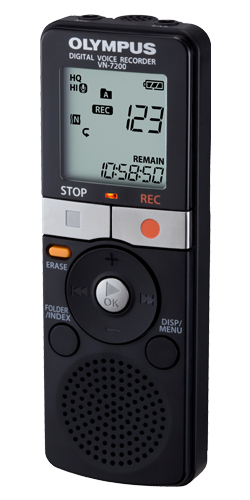 The VN-7200 combines the simplicity of analog recorders with Olympus' renowned audio technology. This digital voice recorder offers hundreds of hours of recording time, key features to help capture ideal recordings and functional design elements that make it a versatile tool for everything from the classroom to the boardroom. The VN-7200 recorder is the perfect reason to finally get rid of messy and unreliable tapes.
Features:
Variable Control Voice Actuator

2GB internal flash memory

Up to 1151 hours of recording time in LP mode

4 folders

16 index marks

Fast and slow playback options
1,151 HOURS RECORDING TIME.
Record up to 1,151 hours of uninterrupted audio in LP mode.
VOICE ACTIVATION.
Voice Activation makes automatic starting and stopping of the recorder an extra benefit that saves time and energy.
INDEX MARKS.
Index marks let you specify a particular point in a recording or playback for easy retrieval.
TWO PLAYBACK MODES.
Slow and Fast Playback modes let you listen to audio 25 percent slower or 50 percent faster than real time.
THREE RECORDING MODES.
Select from three recording modes to meet your specific needs: HQ for high quality; SP and LP for extended recording.
Specifications:
Recording Format

Sub Band / CELP

Recording Media

Built-in 2GB flash memory

Recording Time

HQ mode: 78H30M

SP mode: 202H

LP mode: 1151H

PC Interface

No

Folders Messages

4 Folders / 200 per Folder

Practical Maximum Output

190 mW

Speaker

28 mm round dynamic speaker

Microphone Jack

3.5 mm mini-jack, impedance 2k ohms

Earphone Jack

3.5 mm mini-jack, impedance 8 ohms

Power Supply

2x AAA alkaline (LR03 or R03) batteries or 2x AAA Ni-MH rechargeable batteries

Battery Life

Alkaline: 86H

Size

4.1 x 1.5 x 0.8 inches (104 x 37 x 19.1 mm)

Weight

2.3 oz (66g), including batteries