Dragon Medical Practice Edition 2
The latest member of the Dragon Medical family, it's designed and priced especially for smaller practices to help clinicians accelerate adoption of their chosen EHR. Using Dragon Medical Practice Edition ensures clinicians document care more completely and "in their own words." Clinicians using Dragon Medical solutions have experienced substantially greater satisfaction than clinicians who use the EHR without Dragon Medical.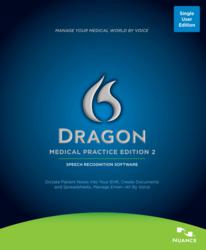 Available only for practices of 24 physicians or less, Dragon Medical Practice Edition is 99% more accurate 'out of the box' and includes medical vocabularies covering more than 90 specialty and sunspecialty vocabularies. It allows clinicians to dictate in their own words, generating 'once and done' documentation, which they can then review.
Dragon Medical Practice Edition lets clinicians use a narrative format to dictate the elements of a patient encounter where clinicians need to document care in teir own words, including the History of Present Illness, Review of Systems, Phsical Examinationm and Assessment and Plan. Dragon Medical Practice Edition supports HIPAA patient confidientiality guidelines, a critical requirement for an practice concerned with patient confidentiality.
Clinicians also save additional time by using customized macros to enter fequently dictated text with a single voice command. Additionally, the Dragon Medical Template Library - a library of more than ttwo dozen macros for standard notes and an extensive ist of 'medical normals' by body system - facilitates rapid note creation. Overall, Dragon Medical solutions dramatically reduce the time clinicians spend documenting care - saving 30 minutes or more a day, according to numerous studies.
Dragon Medical Practice Edition Features:
Improved Hidden Dictation Box

Medical Templates

Medical Web Searches

30

NEW

Medical specialties, totally over 90!

iPhone and Android Mic app

Export word with properties

Option to disable multiple text matches

Disable tracking commands per app

Disable desktop and start menu lauch commands

Flashing effect DragonBar

Restore user profile checkpoints and backups

Utility to create encrypted package of files to send to Support for investigation

Auto-Transcribe allows output as .Doc or .Rtf, create script to run when job completes (for email notification)

Admin option (no GUI) to create "recognition log" - similar to recognition history's non-detailed .txt but cumulative, and also showing username, source, and VOC.

Include the Dragon NaturallySpeaking windows in teh "list windows" commands

Turn ON, by default, the option to Require 'Click' for menus and controls

Export custom words with their Properties

Support for lates Microsoft Products (Office 2013, Office 2010, Windows 8, IE 10)

PowerMic II usage and button assignment

PowerMic II default assignment improvements